I don't know how it is already August, or that August is about half over..but apparently it is.
Looking back, July was a great month.
I went to North Carolina to visit one of my best friends and haven't laughed that hard in MONTHS.
Like crying/literally-getting-chest-pain laughter, such a riot. :)
This last week I was up in Northern Iowa and then on vacation with my family.
That is the only week out of the year where I don't do any sessions or open my laptop, and it's always such a nice break and relaxed time to spend with family!
Before we dive into goals, here some things to woot about -- since I haven't done that in awhile!
+
Hillsong Empires
. This album is the bomb dot com..so obsessed with it and the solid lyrics in their songs. If you've never listened to it before, here you go. :) Some of my favorites are "Captain", "Even When It Hurts", and "Rule"
+ And speaking of music, just the other day I came across
THIS
song by Bethel music..love it.
+
Mouth Party Caramel
. Oh. My. Word. Recently a friend gave me some of these caramels, and I had heard good things about them -- but MIND OFFICIALLY BLOWN. I mean, I don't even
like
caramel much and rarely ever get it on my ice cream, but this stuff basically redefines that golden goodness. Do yourself a favor and buy some now.
+ On Instagram I have started a weekly series where I share a photo tip each Tuesday! You can find me @HannahElisePhotography, or check online each week by clicking
HERE
. To find all the posts I've done so far, search the hashtag #HannahEliseTuesdayTip.
personal :
+ finish reading "Great Expectations".
Seriously can we all just take a minute to say how amazing of a writer Charles Dickens is?! I can't even. Who needs to ever watch movies when you've got his novels that are so vivid?!
+ re-organize my bedroom and keep it in functioning order.
Over time I've realized my problem isn't cleaning as I honestly enjoy organizing things..it is MAINTAINING and keeping it that way. So I'm going to try and take the bull by the horns and get a better grip on this! :)
business :
+ Work during 'normal' work hours.
Being self-employed I have this bad habit of working until 2 am, or just always feeling like I should be working in general and so I've decided to try and streamline my editing/emails/etc to within the hours of 9-5 like a normal person (I know right -- what an idea?!). That way I do other things in the evenings like reading, chill, etc.
+ Take new product pictures / update online portfolios.
+ Begin work on 2015 client Christmas gifts.
I'm one of those people who is already stressing about what I will decide to do for this December (yes, it is still summer and I am obviously a control freak who wants to be ahead of the game, feel free to laugh) :) But in all seriousness, fall is such a crazy time of year for me that I want to already have my foot in the door on this so I'm not scrambling in November!
+ Also a quick heads up that I am booking NOW for fall sessions!
My calendar is filling up quickly, and if you wait until September to contact me odds are I won't be able to fit you in. I hate saying no but have to limit myself with what I can handle. :) E-mail hannah@hannaheliseblog.com for family/seniors/engagement/maternity or send me a message through THIS link!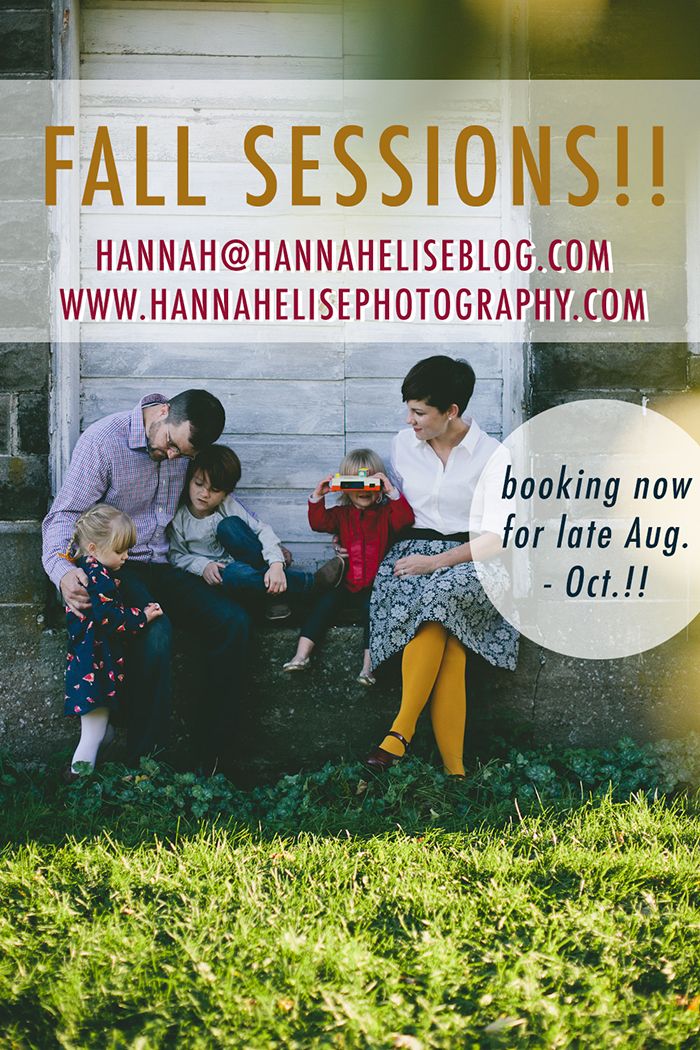 What are you hoping to accomplish here in August?
Have a beautiful Tuesday!!