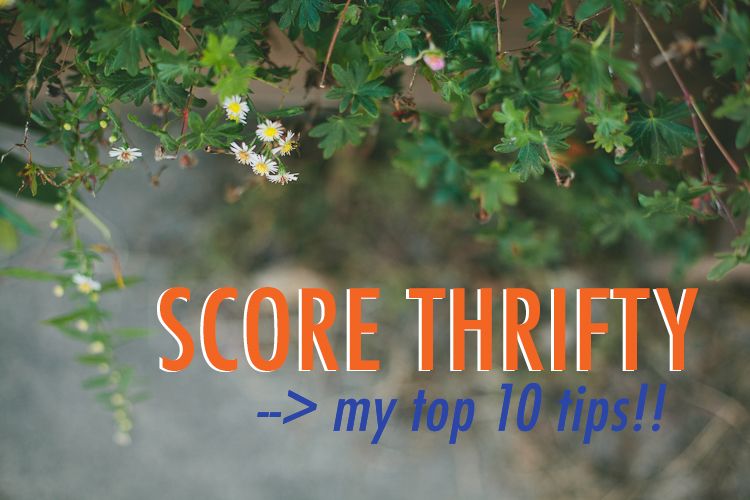 The other day on instagram I shared a picture of a garage sale item,
and someone commented saying I need to teach them how to thrift shop.
And it got me thinking how I haven't ever really done a post on some advice with thrifting!
I am a huge fan of everything thrift related -- goodwill, salvation army, Plato's closet, garage sales,
estate sales, clearance racks in stores, etc.
I don't always have much time for it, but when I do it's super fun.
Shopping like this is my love language, haha -- and yes, I will do another
Score Thrifty
post at some point!
Anyways, enjoy some tips with this + I would love to hear what advice YOU guys have for scoring amazing deals!!
I know plenty of other thrifty friends read this blog. :)
Take your time.
If you've gone thrifting for 15 minutes and have been frustrated because you didn't find anything, you probably just need to spend a better chunk of time looking. :) Last year on the day after Christmas when the rest of the world was storming Target/Kohl's I went to Goodwill and literally was there for 2 hours. It was pretty much the best day ever as the store was mostly empty, and I just took my time looking through everything! :) Keep this in mind for garage sales as well, occasionally I will even go back to a sale because you can easily miss stuff the first time if you're moving too fast.
Look through everything.
This is kind of related to my first point, but you've got to look through EVERYTHING, guys. Just because there are sections for S, M or L DOES NOT mean things will be in the right spot!! If I'm looking at skirts or dresses, I look through them all because sometimes people put stuff in the wrong section. This honestly goes for the whole store in general. Sometimes a cool item will get put on a shelf in a weird spot and you just have to scour everything.
Don't be afraid to look through kids clothes, for yourself.
If you are short like me, every so often in the girl's section I will find an XXL clothing item that I like, and it fits. Same goes for shoes, as sometimes large kids shoe sizes may work for you. Don't write things off based on the size! Actually this tip goes for all clothing in general. Sometimes a Large women's shirt may be cut smaller than you think, so don't worry so much about the "tag size" and think more about if it looks like it would fit you or not. At this point I can typically just look at a skirt and know right away if it would work or not, although I do still try stuff on to be sure. You'll be surprised by the new possibilities this opens up if you start ignoring tag sizes!! :)
Keep a note on your phone of items you need to look for.
It's easy to get distracted in stores by all the things you COULD get, and you forget what you NEED to buy. Throughout the week you will think of things like "oh, I need to get a pair of jeans! I need a pink undershirt for that top! We could use a new muffin tin!" Sometimes its hard to keep all these things in your head and you don't want to arrive home from shopping and realize you totally spaced off looking for 'such-and-such'. Type these out in a note on your phone so the next time you hit goodwill, you will be reminded of the things you were wanting to look for. And if you don't find it there then you still have it on your phone the next time you're at Walmart or Target.
If you think you might want it, put it in your cart now.
There's nothing worse than thinking "oh, that is a cool frame!" and then coming back 2 minutes later to find it gone. This goes even more for garage sales, as stuff moves fast. So if you like something, pick it up/put it in your cart, or take it to the counter and have them hold it/give it to the garage sale owner while you think about it. You can always decide later that you don't want it.
Don't judge a garage sale from the street.
Sometimes I'll drive by a sale and think "ehh, it looks like all baby stuff, I'm not stopping", but occasionally I'm surprised by a gem I find at a sale that looked like a 'dud'. One time I found a pair of black lace-up boots for $1 at a sale where I wasn't interested in anything else there, but that was the one golden find. So you never know. :)
Think about what you're buying, and how soon you will use it.
In my earlier thrifting days, if there was something cute/cheap/in my size I felt obligated to buy it. Yes, it may be a total steal -- but the problem with this is that you will start accumulating clothes or items you "might use someday", and never actually will. So now I really think through my purchases, and even if I like something I weigh if I absolutely LOVE it or could live without it. Simplify.
Evaluate the part of town where the thrift stores are.
Believe it or not, this really does have an effect on the type of items in the store. Ritzy areas will have upper-class/pricier/modern/clean items. My favorite goodwill is in a more lower-class part of town, but it gets a ton of vintage/unique things donated to it. Yes, it will have more grungy stuff at times but for me the gems are worth it. Once I went to a Salvation Army in a Minnesota college town that was SO nice I about couldn't believe it. The location DOES have an effect on the items donated, so scour out different towns and evaluate the items they have, or seem to get a lot of.
Ask people to go lower.
Obviously you can't do this at stores, but don't be afraid to ask people at a garage/yard sale if they will take less for something..because more often than not, they will. And the worst they can say is no. :)
Keep going.
Some days I feel like a hit the jackpot with thrifting, and other times I can barely find 2 items I want to get. The key is to keep going and don't get discouraged. Find new stores to check out, see if there are any 'city-wide' garage sales in your area (you can google this). Those are the BOMB, as you can basically go from house to house and find all kinds of wonders! If you really feel like where you live there aren't any good stores, then consider grabbing some girlfriends and take a day trip to a big city in your state. Map out where all the Goodwills/Salvation Army/Plato's Closet/etc. are and hit as many as possible! :)
Hope this was helpful for someone -- have an awesome weekend guys!