Wow, just wow.
I have no idea how to describe how awesome this trip was--seriously one of the best of my life so far.
I thought the SD trip earlier this year was amazing, which it was!
This one was just 3x as awesome and hilarious..we had a group of 7 girls that traveled up together:
Chelsy & Allison, Amanda, Tia, Lilly, Ruth & I.
We met up with other Bright Lights girls while up there for a wedding/concert as well.
We were all howling with laughter over so many things the whole time...so much fun and so many memories made.
I'll start at the beginning...which really was the night before the whole trip.
I kept having roadblocks while doing various projects that evening...things taking way longer than I needed them to, or a computer that was freezing on me, or trying to pack around midnight and I couldn't decide what all I needed to bring.
I finally had a meltdown at 1 am over a computer problem, (which, praise the Lord got fixed!) but by that point I was beginning to think it wasn't meant to be that I should even go on this trip, and my hours of sleep kept diminishing.
So after I was in tears and soon about to finally be in bed, I then had a heart attack moment by encountering a 3-inch beetle in the hallway by my bedroom..that thing was huge and so gross.
After I executed him and sent him to a watery grave (the toilet) I crawled into bed.
I only got about 4 1/2 hours of sleep, but woke up and got going miraculously and thus began our trip,
although I felt like the living dead for awhile. :)
I tell ya, our troop is quite the combination..we talk and laugh, and talk some more..except for the occasional people that sleep. :)
Once we finally got everyone picked up from the various towns,
we plugged away and stopped from time to time for restroom breaks, etc.
The below photo was taken at a super ghetto ghost town park bathroom...the only place we could find at the moment.
yes, a few faces are blurred, but this was take #4 and we were all freezing.
By the time we reached our destination (St. Cloud, MN) we hit up some thrift stores...
including a super nice Salvation Army where everything was grouped according to color--woot!
I found a bunch of fun things there, all for $17.
Sorry, I didn't take any photos there so just mentally insert a cute picture of a color coordinated shoes and clothes on racks here. :)
Later on we finally reached Chipotle...and all obsessed over it.
Consequently we ate there the next evening as well, which was kind of un-planned
but why not eat at Chipotle and go to Caribou 2 days in a row?
You only live once, peeps.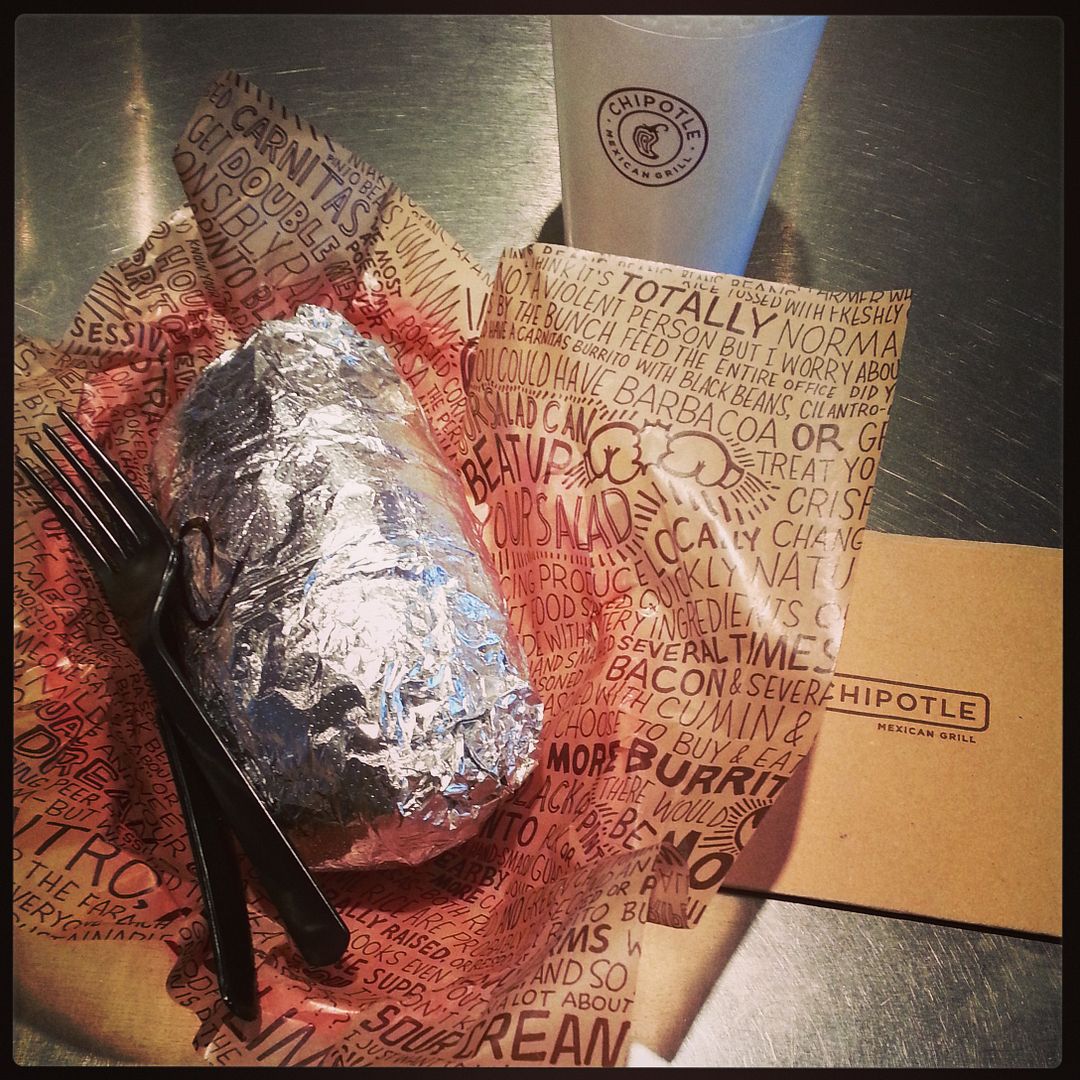 After the concert we headed to the church for the Keith + Kristyn Getty concert.
Now, we had been at this same church the previous week for the Bright Lights conferences and seen the flyer for the concert...
we all agreed it would be great to go to the concert as we were coming up for our friend Abby's wedding anyways,
but I wasn't sure that it would actually happen.
Well, it did happen and that concert was hands down, epic.
I loved the bluegrass/celtic flair, combined with the musicians' hearts for worship and deep lyrics.
Our row was quite animated in the balcony. ;)
Keith Getty made a comment towards the beginning of the concert before they did the song "Before You I Kneel (A Worker's Prayer)", about how Bach always wrote Solo Dei Gloria on his songs,
and how that should be our attitude for each day.
Living each day and doing our work for the glory of Christ,
Simple concept, but really spoke to me..I forget that so often.
So, one of the most hilarious moments/quotes from the entire weekend was during the concert...
I was seated next to a 70-ish-year-old man and his wife, and the man commented to me about how he was going to text his grandson and tell him he should have come to the concert because they were
"seated next to a row of a dozen hot girls...like smoking hot."
yeah, after the concert and for the rest of the trip we were all majorly cracking up over this.
I still can't believe that he actually said that...honestly!! :)
so here is our "smoking hot" group at the concert...
NOT...haha. :P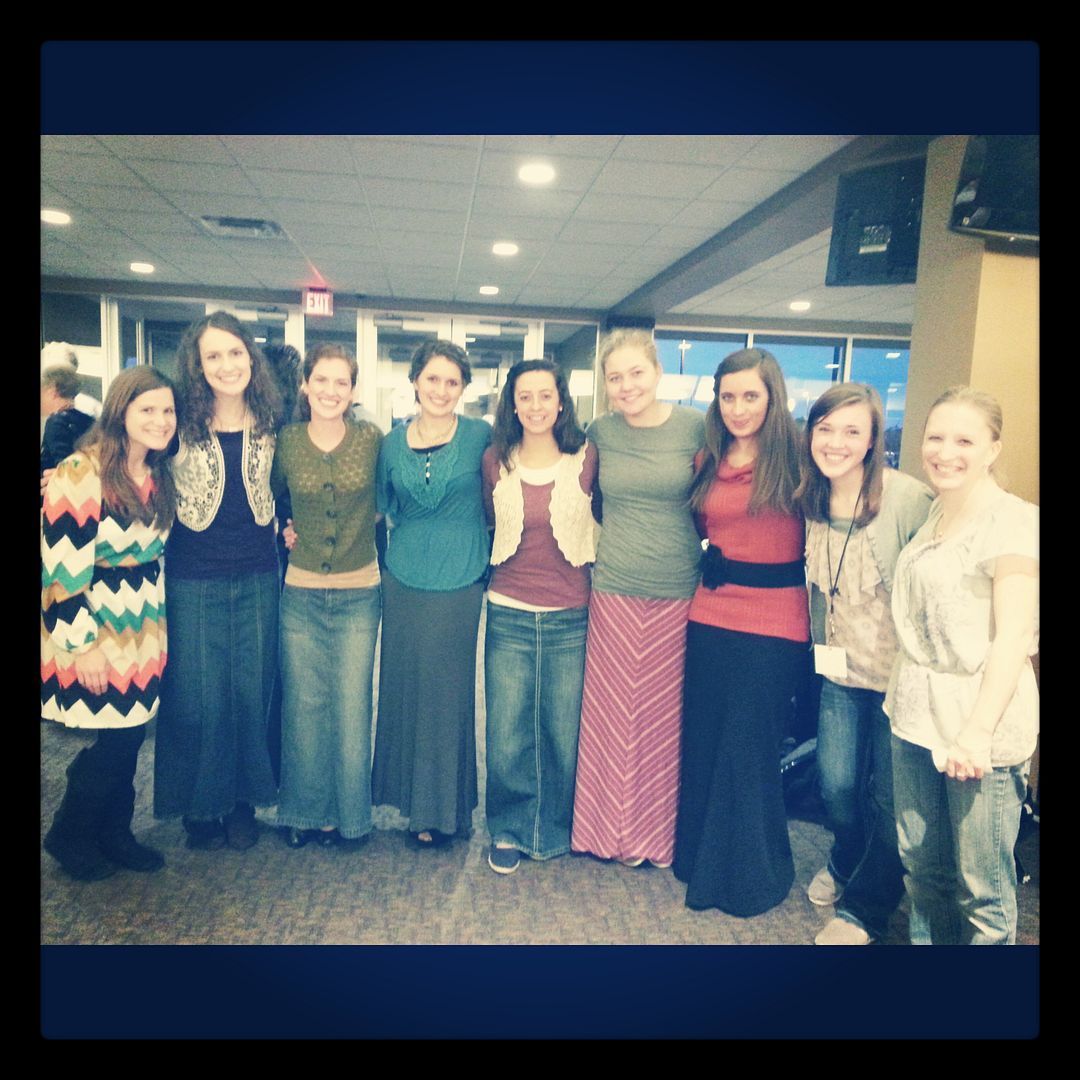 We did a post-concert Caribou run, and then headed to our hotel where we broke out the snacks.
And I'm talking snacks, people.
Including, but not limited to:
Ritz cracker chips, apples/strawberries with nutella, homemade brown butter salted caramel mocha cookies, Sprees, Reece's pieces, Izze's, honey/cinnamon covered nuts, Annie's cheddar/pretzel bunny crackers, etc.
I actually wasn't that hungry at this point, despite the delectable smorgasbord..
I did enjoy a few things though. :)
The next morning we headed over to the church for the wedding of our Bright Lights friend, Abby..
which was the whole reason for the road trip to begin with!
There were rumors of it being 40 degrees and snowing, but praise the Lord that didn't happen!
It was cold, but the sun came out later in the day and no snow, just a sprinkling of rain.
she is seriously so awesome and I was laughing and had a ball shooting with her all day!
Photographer friends in this industry are the best.
Here is a phone photo from the wedding I snapped quick--more 'real camera' photos will be blogged at some point.
Such a beautiful and Christ-honoring ceremony for Abby & Guy!
Group of Bright Lights girls from the wedding!
Back row: Bekah, Kelly, Allison, Sarah, Lilly, Amanda, Me,
Kristin (who flew up from TX!), Grace, Abby (the bride) Nickie, Chelsy, Tia, Ruth
So glad my bestie, Amanda was able to come last minute on this road trip.
This was taken on our evening stop at Caribou Saturday night and I just love this photo.
Aside from the sketchy barista dude (who did not take this photo, btw), we all enjoyed getting coffee drinks there. :P
and we found our one true love...the stuffed bear on the kids' table. ;)
we were getting tired, if you can't tell.
As we laughed our way, sang our hearts out, shared stories/goals, and talked through many other things,
I wished it didn't have to end as we drove home.
Since I don't have any sisters of my own, these girls mean that much more to me--as well as all my other girlfriends out there who I wish lived closer.
Godly, iron-sharpening, and "totes hilar" friendships aren't everywhere..
I am so totally blessed and beyond grateful for these ladies and many, many others out there who God has brought into my life.
We slowly dropped girls off at different destinations, and I finally arrived home after 2 am, and got to bed at 3.
Tiring? yes. Beyond fun? oh yes.
Such a combination of memories, hilarious/awkward/bizarre moments, spiritual challenge/refreshment, blessings, etc, etc.
I'm sure I'm forgetting some things that happened, but it isn't possible to remember or list every single moment or circumstance that happened...so I've highlighted many of them and I'm sure you can read between the lines and imagine the rest. ;)
happy tuesday, and hope you enjoyed this trip recap!!
~H. Elise