THEORY : if I buy myself a really pretty planner, maybe I will actually use it more. :)
Wow, 2015 here we go.
I'm trying to figure out where to start this post, since it is kind of a random assortment of topics..
but let me just start by saying I. LOVE. CHRISTMAS. BREAK.
I don't think I realized how much these recent slow days would be a balm to my soul.
After an extremely busy fall, having some breathing room and time to regroup has been a huge blessing.
I am looking forward to simplifying and having more structure in my life this year.
After a busy fall where I had sessions every week, (and sometimes multiple within a weekend!)
I have been reminding myself that I am only one person.
And in light of that I want to do a better job with scheduling fewer sessions so I can live life slower,
and have more time available to do other things that come up.
So, for each month this year I am going to set a certain number of shoots I will book for that month,
and keep it strictly to that for my sanity's sake, haha. :)
This post is kind of an odd assortment of topics..as I need to blog my monthly goals now that it is January,
and then I also have some personal pictures I felt like sharing/other recent woot-worthy items..
so thus the long title. :)
I haven't been in a department store like that in a long time, and it was so relaxing to just wander around
looking at all their cool products.
(and hear the lady playing their baby grand piano! man, what a dream job!)
Okay, so disclaimer -- I'm not really a big jewelry person..as most days I don't wear any,
and when I do then I typically stick with a few staple necklaces or bracelets and that's it.
BUT I recently found
Flourish Leather
through another instagram shop, and I am so obsessed with their products.
Actually beyond obsessed.
Their specialty is leather bracelets/cuffs, and I love how simple they are.
How comfortable they are. (I wear mine all day, basically every day)
How colorful they are. (they have so many different color options - gold, shimmery, solids, metallic, etc!)
The quality. Their brand/craftsmanship/delivery is fabulous.
And the leather itself smells amazing. I know that's kind of a minor detail, but I was talking about their bracelets with a friend and she commented "where can you get a bracelet that smells that good?!" Exactly. :)
Follow their instagram shop
here
, and then even better than that is their
Flourish Flash
account,
where every so often they do a flash sale.
Anyways, enough said -- go buy your own and then you'll understand my ranting. :)
And speaking of exciting things, my
facebook page
just reached 1,000 likes
(and counting, I am blown away!)
So grateful for the support from everyone.
So this week I became 'one-of-those-people'.
You know the ones who buy a book the day it comes out in stores? Yep, I did it.
Actually it was kind of unintentional..I happened to be in town the day it came out,
and wanted to get a copy for my friend and one for myself.
And my local Barnes + Noble had it in stock -- WOOT!
Wow, so good.
Lara is such a trailblazer and encouragement, I already have been so challenged by this book.
Can't wait to read more..it is rocking my world!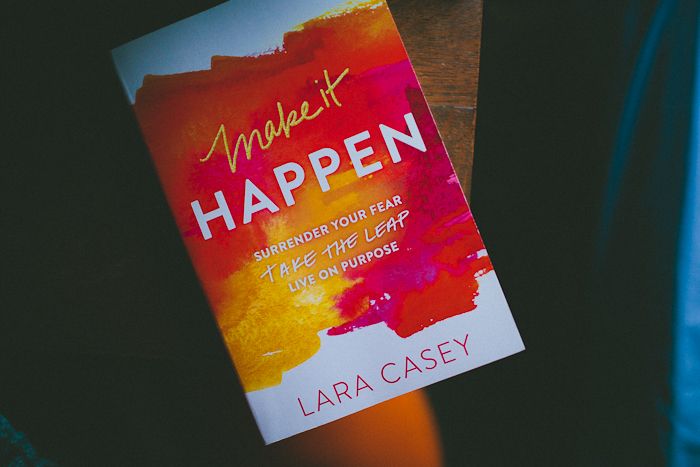 And speaking of making things happen, here are some goals for January!
personal:
+ get letters written. I am so behind on letter writing it's embarrassing. (insert monkey-hands-over-eyes-emoji) This month, now that I actually have free time again, it is going to get knocked out.
+ take a week off from social media. It has been awhile since I've done this, so for one week here in January I'm going to be off facebook/twitter/instagram/etc. I will still answer e-mails, but want to step back from the other outlets.
+ get together with friends. I have some people on my list to hang out with, and am looking forward to that in the quiet winter days ahead! Yay!!
work:
+ BLOG. I have a bazillion sessions yet to share -- sooooo behind!! This month I am going to blog like a banchee and also do a favorites of 2014 post..although I may do a different twist on this. We'll see..stay tuned! I also have a beautiful Wisconsin wedding to share very soon, woohoo!
+ taxes/paperwork. Every business has the mundane side of it, and so here's to completing this as fast as possible, haha.
+ go through 'what worked and what didn't' in 2014. I have been doing this the past few years..reflecting on the last year of business and what went well, or didn't. Anything that didn't has be changed, and I am excited as I brainstorm for new things to incorporate with my photography here in 2015!! Yay for business meetings with yourself, right?! #selfemployed :)
+ new score thrifty. Last week, on the day after Christmas when everyone is storming Target and Kohl's, I spent 2 hours at my favorite goodwill. :) It was GLORIOUS. I found so many gems I literally debated getting a second cart!! So this calls for items to be photographed and a new post up about my favorite recent finds.
+ start working on web/blog redesign. 2015 is going to be the year of a new blog/website design, cheers!
Also, with a new year, I am looking ahead to travel plans as I get out and about in the coming days..
so I
posted on Facebook
about this, but feel free to e-mail me as well if you would definitely be interested
in a session if I happened to be in your area. E-mail hannah@hannaheliseblog.com or send me a message through
here
!
A huge thanks to each of you, blog readers for following along with this little corner of the web!!
I am curious what YOUR favorite posts are on here, or what you would like to see more of in the coming months!
Please leave a comment and let me know your thoughts, whether you enjoy photo sessions, personal posts,
photography tips, score thrifty, etc! :)
Hope you all are having a fabulous start to January!!
love,
Hannah Elise