If you have been following my blog for awhile, you may remember the past couple years when
Chelsy
and I
have done
Boho Blogtober
-- an entire month of blogging.
Well after last year, we were discussing how October is always such a crazy time of year for us,
and talked about switching to another 'slower' month if we did this again.
We also determined to do a shorter time frame, as that is more manageable than tackling an entire month of blogging.
Honestly looking back, I have no idea how we managed to blog for an entire month..haha!
So, we are launching a new form of Boho Blogtober and calling it a "Ten Day Tandem"
where both of us will be posting every weekday from April 20 - May 1!!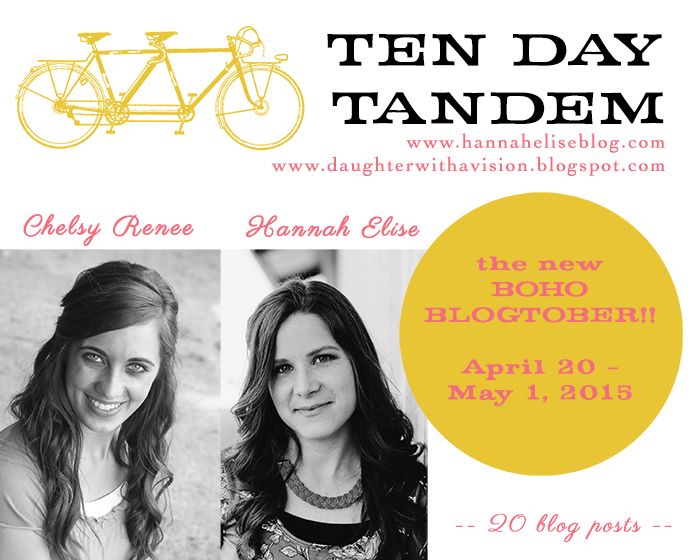 This will be really fun, and I'm so excited for it. :)
On my blog here you can expect..
+ a new Score Thrifty
+ photo tips
+ giveaway
+ featured guest blogger
+ an "outfit-of-the-day" post
+ and more!!!
So spread the word and get pumped because we're kicking things off on April 20th which is only about a week away!
Also, I would love your input or questions for the Ten Day Tandem --
so please speak up (aka comment on this post) if you have ideas or photography questions for what I should post about. :)


have an awesome weekend!!
love,
Hannah Elise