Yesterday I about teared up when I saw the layout had gone live --
I've never outsourced a website design before and always just done things on my own.
So, to have worked with someone who took my ideas and made them come to life just felt surreal!
The woman behind my beautiful new blog is
Suzana
of
This Girl Design
!! HUGE thank you to her for being such a rockstar. Seriously, she knocked it out of the park and I am just blown away by her skills
[and patience with all my changes!!].
Cannot recommend her enough, SO so great to work with.
Many thanks to my friend Caitlyn of
Pink Flower Photography
for the amazing new head shots..I am just in love with how they turned out, and had so much fun getting them taken with her back in April!! And in case someone will ask, my dress is from
LuLaRoe
. :)
[and sidenote on that -- it is basically THE most comfortable one I've owned, and one of the biggest perks is that I didn't have to hem it, like I typically do with maxi skirts/dresses!! #shortgirlprobz]
Also thank you to my friend Haley for doing my hair/makeup, and my bestie Ana for helping me
with my new rotating header!!
Not only have I been working on this new blog launch, but updated my website, too!!
And because no blog launch is complete without a giveaway, I want to give a copy of
"Make It Happen" by
Lara Casey
to one of you!!
This book is so incredible..I just love how heartfelt + real Lara is, and you feel like she's sharing her life story
with you in a coffee shop as you're reading.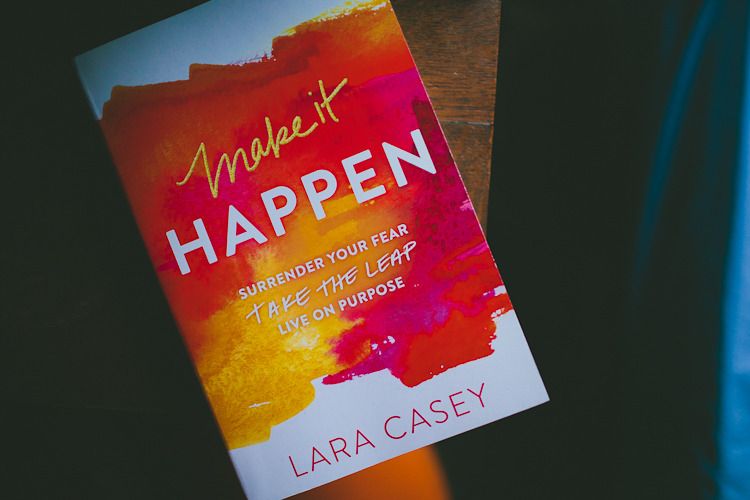 TO ENTER :
Comment on this post with your name, and share what is your favorite part of the new blog design!!
**one comment per person, open to U.S. + Canada residents only, giveaway ends Sunday, June 21 @ midnight CST
+ a winner will be chosen at random and announced here Monday morning!!**
Also if you are on
INSTAGRAM
you might want to follow my account (if you aren't already)
as later today I'll be posting a separate giveaway to celebrate this new launch. :)
--> @HannahElisePhotography
So, feel free to click around and enjoy my new site!!
Thank you all so much for following this blog of mine + all the support/encouragement over the years.
I definitely do not take it for granted.
love,
Hannah Elise