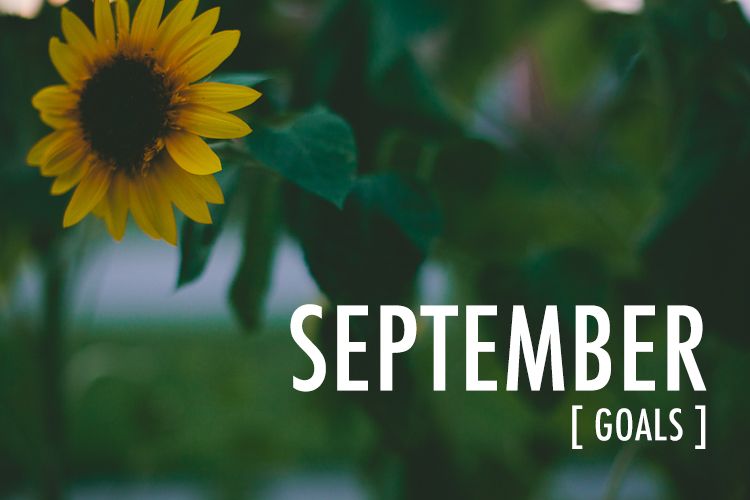 Yikes. September already?!
Well, ready or not here it comes..the craziness of fall season! :)
Honestly I didn't make much headway on my August goals..most of July and August I was taking a trip, then home for about a week, then gone again -- repeat.
I really love traveling, but am glad to stay put for awhile now.
I've started piano lessons again for the fall, and other activities have begun now that Labor Day has passed, so its nice to have some routine.
Here's a few goals for the rest of the month here..
personal :
+
365 project.
I just started this a few weeks back, on August 24th. Yes, I fully realize it was not January 1st, nor the first of a month for that matter. :) A fellow photographer has been doing one of these, and it was inspiring me and then someone else had mentioned to "always be shooting something." And I'm gonna be real here for a sec - I don't shoot personal work like I should, which is sad. I'm always regularly doing sessions but when I think about it, some of the most beautiful work comes from people who are always photographing daily life..although they have sessions on their plate as well. So, intimidating as it was, I decided to throw caution to the wind and lock myself in, err, have the opportunity to take a photo every day. :) It's all how you look at, right?! Thinking of the whole next year is too overwhelming, but today - I can take a picture today. Aside from the Summer Murdock course, this has been the best thing I've done for myself photography-wise in a long time. It is giving me a new fire and love for the craft. If you'd like to follow along, I'm posting them regularly on my Instagram feed here -- @HannahElisePhotography or search the hashtag #HannahElise365.
+
journal twice a week.
Enough said, needs to happen more. Also letter-writing. Enough said. :)
work :
+
deep breath.
and this is the point in the year where I need all the "Keep Calm" quotes available on Pinterest, guys. Fall is busy season for me, and there's no break from here on out until January. I'm almost full for bookings, and everything else is a fun whirlwind! Always a challenge to balance everything, but overall I'm grateful for the structure that life has now after a hectic summer calendar. :)
+
faster turnaround time for edits.
I want to push myself on this and see how fast I can get sessions completed so I can keep ahead of the game.
+
celebrate 4 years.
September 24th marks 4 years of business for me (what even?!). I've got some exciting stuff planned for this day so get excited. It falls on a Thursday this year, and normally I don't like Thursdays (they just seem like an odd-ball day of the week to me) but that week will be a GOOD Thursday, lemme tell ya. Be sure to be following my Facebook Page & Instagram for updates on this!
Among other news I'm totally behind on blogging, like totally behind..I keep thinking "oh yeah, I need to blog that session..oh, I didn't blog that session yet either." -_-
The struggle is real to stay on top of life, isn't it?!
I also have been wondering for the last few months how many people even read blogs anymore?
I feel like Instagram is taking over the need for it, and we just like short snippets of words along with a photo to give us a 'blogging fix.'
But I was reading a personal post from someone I've followed for years the other day,
and was reminded how much I enjoyed her site.
Just some random thoughts..so if you're reading this would you take a second to comment and tell me what you like to see on here?
I need to blog sessions..but could also do more personal posts, FAQ photography ones, don't even get me going on how I need to do a Score Thrifty (I have no idea how long it's been -- #monkeyhandsovereyes), etc.
Don't freak out, I will definitely keep posting here, I just tend to focus efforts on Instagram, FB, etc when life gets busy and blogging gets pushed to the back burner. :)
Irregardless, doing this always feels therapeutic in a way to me.
Hope you all have a great weekend -- September is always a breath of fresh air, amiright?
Love it.