I actually feel like I'm getting on top of my life..I mean, what an idea, right?!! :)
Haha.
The last few months have felt like I've just been going from one project to the next
and now I finally feel like I'm coming out of it all + have a better schedule and breathing room.
Praise the Lord.
a few recent things to woot about...
LEMONHEADS
-- one of my current favorite candy crushes. Oh man. I used to get these for saying verses at my Wednesday night Bible Club when I was a kid and they're just
SO. GOOD
. Also really good -- those lemon drop old fashioned candy things..obviously I enjoy lemon candy, haha. Anyone with me?!
+ The floral/stripes fashion combo that is popular right now..I'm kind of obsessed with this and have had my brain thinking about outfits I can do it with. Planning to blog more about this soon in a post -- stay tuned!!
+ Spring -- I love spring..my heart. My favorite season with all the rebirth and beauty + where I live here it is just gorgeous.
+ I really enjoy Snapchat these days and watching people's stories on there. Do you have any favorite accounts you follow? My username is @HannahEliseBlog if you would like to add me + follow along!!
+ Like I said earlier..just feeling like I'm getting a grip on my life + that I actually have margin now. Glory road after the last few months.
TAZO VANILLA CARAMEL CHAI TEA
-- oh my word..obsessed with this stuff. It's super cheap too + I typically don't like chai unless its made with milk, but this is really good. I get mine at Target + you can probably find it at other places too or order it online.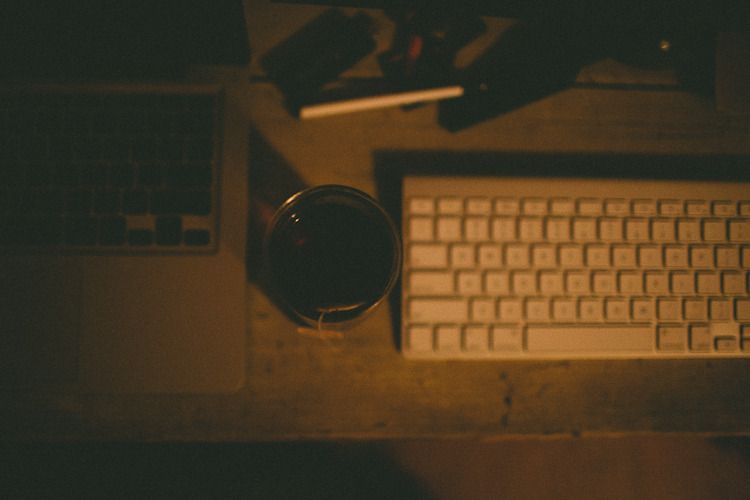 some April goals here...
PERSONAL :
+ Read "the Practice of the Presence of God" by Brother Lawrence.
Oh my word -- I have been so profoundly impacted just by
Nancy Ray's
PERISCOPES about this book that I thought I just need to get it for myself + read it. The biggest concept that has hit me + has been INCREDIBLE in my life is the act of just seeking out + inviting God's presence into everyday life situations. So often I get spiritual blinders and get so focused on my
PROBLEM
or issue, that I forget to stop and
INVITE GOD INTO THE PROBLEM.
I mean, what an idea, right?!
But seriously guys this has just been GROUNDBREAKING in my spiritual life lately. If I'm stressing out about something or starting to feel it climax or an inward freak out -- stopping and inviting His presence into the situation. Stopping right then and asking Him to show me His presence in this, asking for help as I'm doing this + inviting Him into the situation. And it has just been amazing to the problem really start to dissolve in a way when I start to do these + see Him carry me through it. Like I can't even. Why in the world do I not do this more often?!! I loved how in one video Nancy Ray talked about how just doing your devotions in the morning isn't enough. You have to be actively seeking out God's presence in every situation as you go about your day + the act of inviting Him into every struggle or problem and walking with Him step by step through it. Wow…it's just incredible and in such a beautiful way. So in whatever struggle or issue you're having, something you're starting to stress out about it, or a simple task you're doing -- stop and seek out His presence and have Him coach you through the process. Ask Him to meet with you and help guide you through it. So many of my problems just seem to shift or like I said -- dissolve in a way when I do this..and how the whole issue changes when I seek out or ask for His presence in something. Really amazing. Don't get paranoid and so focused on your issues like I think so many of us do -- you've got to stop and ask Him to come into the situation. He will walk us through each step and I think this is one of the ways we really abide in Him. This is an active relationship of seeking Christ + walking with Him throughout the daily life situations. You all need to go watch these videos by Nancy Ray talking about the book -- check them out
HERE
,
HERE
,
HERE
,
HERE
+
HERE
.
Your life will be impacted watching these -- mine has, anyways.
So good.
**Also, speaking of awesome Periscopes if you want more awesome ones to listen to -- go watch any of Lara Casey's on her videos replay channel HERE.
+
Start a spiritual journal
..which I just began today and want to be doing this everyday with my devotions. Even if its only a short bit or a verse or something...or some days it is longer -- I believe this will be important + good for me.
+ Keep working out -- and do it a couple times per week.
I've been doing this sporadically, but want to keep being more consistent with it.
Okay so story time with Hannah in relation to this..
Last week I was on a walk and at one point this one canadian goose was like following me for a second, which was freaking me out -- and then there were these two MASSIVE swans (like seriously, do you guys know how big those are when you're right by them?!) that had moved a couple steps but were still standing there on the gravel path and owning their own ground..so I ended up having to walk
RIGHT BY THEM. #FREAKY I mean, like seriously -- what would I do if they both went after me?!! I.e. NEWSPAPER HEADLINE -- "Local girl DIES after being attacked by swans" Bahaha -- I know I'm being kind of dramatic, but seriously like what are you supposed to do in a situation like that?! You just feel kind of insecure and helpless in this type of thing. So this week I actually faced my fears -- after being slightly scarred last time (GULP) and did my typical route -- this time having some mental plans of action -- of running during the stretch I was concerned about, and also carrying a
metal pointer
I use for piano teaching in my pocket (I know, DRASTIC MEASURES, GUYS...but forreal -- like what else am I gonna do if a bird goes after me?!!) So I had these mental plans, along with a couple other ideas in my head -- and I passed geese a couple times on my route and thankfully THEY DIDN'T. ATTACK ME. So I survived..and can probably just keep on doing my typical route from here, but seriously -- it's kind of unnerving with stuff like that. I think I'm going to start a new workout program called "SCARED OF GEESE" where we face our fears and it helps us workout better. Haha -- but honestly, I ran more on that walk than I have in a long time (I usually just power walk) so there's the silver lining, people. Geese are helping me get more in shape -- #cryinglaughingemoji / #-_-thisemoji Oh man. So if anyone has any epic hacks / tips for scaring birds away or looking fierce as a human to ward off animals -- I'd be grateful and please comment. :)
p.s. if you want killer workout music check out the
Hillsong Young & Free Youth Reviva
l album or
THIS
Hillsong album -- gimme all those vibes + those lyrics..so good.
+ Finish reading Crash the Chatterbox + then re-read and write down all the good stuff in it.
Oh man, this book…really good, guys. I've wanted to read it before + a friend just recently gave it to me. I thought it was just about discerning God's will…but it's all about the mental chatter we have in our head, how we talk to ourselves and dealing with thoughts about fears, insecurity, condemnation + discouragement. Just awesome and SO relevant + practical. I plan on sharing a bit more from this down the road, but one great gem I have learned from this is in relation to dealing with fears, and he walks through these 3 steps of :
What if…
That would…
God will…
Like
what if
______ happened -- well
that would
be _______ (terrible, sad, really hard, etc.) but
God will
_____ (get me through it, help me out of that mess, will provide, make it all work together for my good, etc). Seriously, if you apply this method of dealing with your fears it really takes most all of the fear out of things + helps you logically/practically think about things + move forward. Start doing it!!
p.s. paperback version of the book
HERE
, which to my understanding is the same as the hardback just more affordable.
+
Finish UNSTUCK
-- haven't completed reading this yet.
+
Get my room organized.
Seriously, mental clutter is physical clutter and it makes such a difference in your life when physical objects are cleaned up + organized.
+ Start just doing all the things I want to do..and letting go of it all being perfect.
I have ideas of good things I want to do for people -- like mailing stuff out to them, and these things just aren't happening as I'm thinking I'll do it at another time or when it's a better day for it, and I'm realizing I just need to start DOING them + forget about it all being perfect, or the perfect day to put it together. Like it's way more important to be actually DOING these things and making them happen to impact + encourage people than waiting with it for my mental "perfect" timing.
+ Finish memorizing Psalm 37.
I know I said I was going to do 1 Corinthians 15, but I have felt led to switch to doing Psalm 37. Guys, this has just been really good and so practical for what I'm struggling with right now and I love it. I already have had memorized some content from this, or know some of the sections -- so it is more like fitting the whole thing together + then learning the new verses I haven't already. Oh man, I just love it. Let's talk about the Word of God and how good it is. Guys, seriously --start memorizing and have it as the soundtrack in your head to mentally be going over. You will never regret doing stuff like this. I'm planning to write a blog post sometime in the near future about how much God has been impressing on me to just keep going back to His Word.
WORK :
+ Do some different work projects/stuff I'm excited about!!
You can watch on social media about these!!
+ Organize some paperwork things, do some work on price sheets, etc.
+
Go read back through some of the fabulous content in the Magic of Light course I took last year and work on applying it.
Guys, if you ever get the chance -- that course will rock your world and you'll never see light the same again. Just incredible. You can sign up for her newsletter to be notified about the next course she will have
HERE
+ please keep in mind that these sell out literally in minutes so you have to have your game face on (or have a couple people trying for you) if you want to get in.
+
Blog 2015 favorites
..oh my word -- biggest hands over eyes emoji. This is embarrassing. Oh well…this will happen at some point. In my defense my life is kind of crazy and I have a lot of responsibility/things to stay on top of/various projects lately/stressing over which images to blog for this -- so yeah there's my lame excuse.
+
Stop working at night.
Guys, I am officially DONE with working at night (and granted I'm finished this blog post after supper here.. #monkeyhandsovereyes) But anyways, I've just realized lately how I am just so tired doing this and want to have freedom, structure + just feel like I have a life and that my business isn't running me anymore. So I've been thinking about my objectives with it and wrote out some why I don't want to do this anymore
[i.e. have a life, freedom in my evenings, etc..]
And I just plain don't to be stuck working at night anymore, or aside from shoots (which I will still have on weekends) I don't want to really be working then either..] So therefore, my plan of action which I wrote out and signed here today (#yikes) -- is that I am committing and going to strive to do all my "work stuff" between 9-5 Monday - Friday and no social media during that time unless its for work purposes or I really need to get on for some reason. Which not gonna lie, that sounds kinda scary as I like getting on Facebook, etc, but I know this will ultimately be good for me. I want to feel a lot more like a normal person and separate my work life and personal life, and have structure. So starting this Monday that's going to be my new method to try and implement! :) Working for yourself is really awesome and has a lot of perks but it can also be really hard to be disciplined with yourself + I've just seen too many 1-2 am nights and am done doing them and ready to kick it to the curb. I'm sure I'll stick work at night sometimes in the future, but my goal is to not be doing that as the norm anymore with things. So I'd encourage you if you have a goal, to list out your objectives for why you want this + therefore what practical action steps you're going to take to reach it or it won't happen.
+ Figure out if I am going to do an internship this year and if so, determine details for that!!
If you'd be interested in attending one of these and would like to be the first to hear about it, please shoot me an e-mail (hannah@hannaheliseblog.com) + I will add you to my list of people!!
+ Blog more + more!!!
I just want to be making my blog more of a central hub here and get back to blogging more consistently..so stay tuned!! And check back next week for the newest installment of my
MOTHERHOOD SERIES
!!
What's on for your April?



hope you all have a great weekend!!


thanks so much for reading along and as always, I love it when you guys comment!!
so please interact if you enjoyed this post or share your monthly goals or what you have coming up --
I'd love to hear from you!