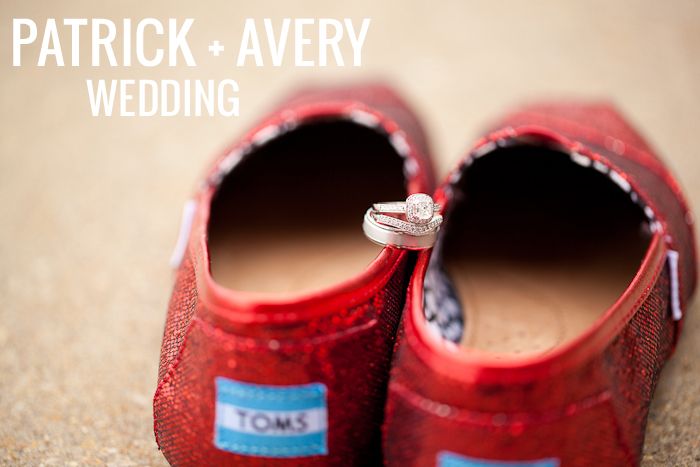 I am so excited to share this wedding--so beautiful and Christ-honoring!
But first, some of my favorite moments from the day...

After reading his letter, she folded it up and breathed--"He's perfect."
I went to retrieve Patrick's letter and bring it to Avery, and he had a gift sitting with it.
So I asked if I should take the gift with the letter, but he insisted that no,
he
wanted to give it to her in person.
They did a first look, but right before the ceremony wanted to pray without seeing each other..
so they stood back to back around a door.
She asked him to pray...he said, "do you want me to cry?"
He was able to do it, but it was so sweet.
On the dance floor towards the end of the reception, Avery's wrist-strap for her dress mostly ripped off
all of a sudden...she responded with, "oh well!" and kept right on dancing. :)
The TOMS theme throughout the day.
and so she, all the bridesmaids, (and even the little flower girl!) wore them for the wedding.
I have to give a huge shout-out to my amazing friend Amanda who second-shot
this wedding with me, and I've included a few of her photos in this post. :)
She was such a huge help to me throughout the entire day,
and I could never have done it without her!
The Lord also brought so many answers to prayer--from it being overcast outside when we did portraits,
to the smallest details...and I drove home that night so grateful and with a full heart.

As a random side note--Avery was the first redhead I ever photographed,
and she and Patrick were also my first engagement session and wedding I shot..so fun!
Patrick + Avery, thank you so much for trusting me to document such a milestone in your lives.
It was truly such a joy and privilege for me to be your photographer,
and I hope that through these photos you will re-live every moment of your day.
~H. Elise