Shooting
my brother's weddin
g was one of my top favorite photography experiences, so far.
Obviously I can't speak for everyone who has done this for a sibling, but for me it went really great.
I think honestly there are two main reasons why I loved it:
1) With any wedding, the photographer is the only vendor to spend the most time actually with the couple. Think about it - the florist just does the flowers, the makeup artist is only there at the beginning, the DJ is only at the reception..but you are documenting the entire day, which is a huge privilege! And in light of that..
2) When you're spending the whole day with your brother & new sister-in-law, it's that much more of a privilege. I mean, if I wasn't the wedding photographer I would still be very involved in the day, but it's not quite the same as capturing everything for people that are so close to you!
I probably should have done this post last fall, but life was too crazy then..
and regardless, I want to document things while they are still semi-fresh in my mind. :)
Plus in the event that this post could be helpful to someone else doing their siblings' wedding or one for a close friend, here are some thoughts I had and what worked for me!
+ Have a trustworthy second shooter -- one that knows you really well.
I could basically end the post here with this statement alone! :) I asked
Amanda
, who is one of my very best friends to second shoot/assist me, and there are no words to describe how invaluable this was. Not only is she a fantastic photographer, but since we're so close she can basically read my mind, help me keep calm, be a shoulder to cry on, etc. And remember to delegate things to the second shooter if you don't absolutely have to shoot yourself..like reception/ceremony details, etc.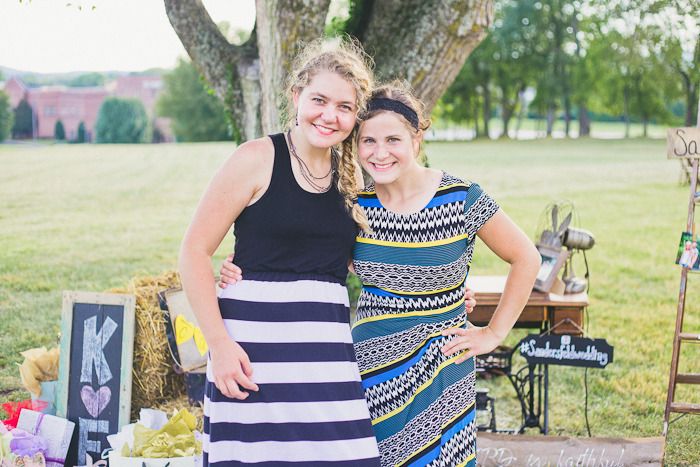 + Shoot the details beforehand.
I had heard about another photographer doing this for her sister's wedding, and thought it was worth trying! I was SO glad I did..on the day of the rehearsal, I photographed Kari's dress / jewelry and had that checked off before the wedding day even started! Plus I had way more time to experiment and hang the dress in different places. This made the next morning really relaxing as we were able to just hang out with Kari and her bridesmaids as they got ready..and we weren't running back and forth trying to find a place to hang the dress, or worrying that we were missing something happening.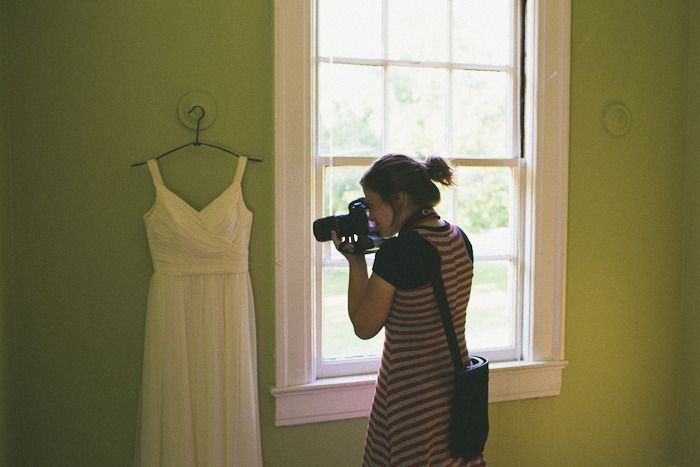 + Be organized. Even though I was shooting for family, I still approached things the same as for any other wedding client. I sat down with Erich + Kari and talked through the whole timeline/their vision for the images, and had them e-mail me what groupings were wanted for family photos, etc. Yes, I already knew most of the family on both sides (since I was one, haha) and could assume things, but knowing exactly what they wanted was really helpful. The last thing you want is a confusing situation to arise because of miscommunication..so err on the side of being overly organized with everything! :)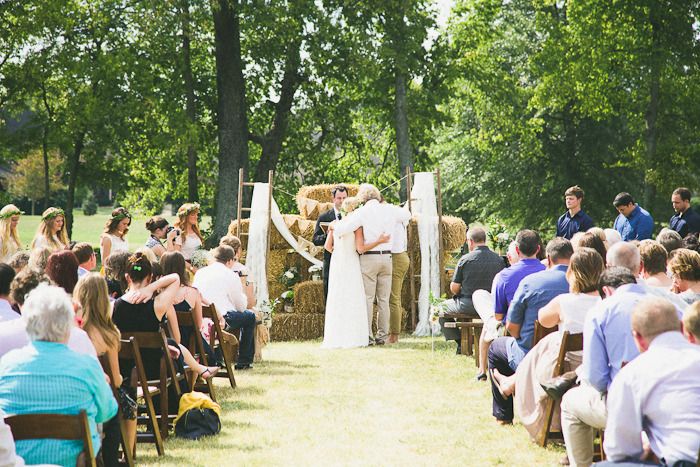 + Be present, and emotionally present.
Don't put a ridiculous amount of pressure on yourself - that's why you have a second shooter. I knew I didn't want to look back on Erich's wedding and remember it just through a camera view finder!
Enjoy watching the day unfold.
I sat down for a good 10 minutes of the ceremony and just watched + listened. At other times I talked to friends, met new people, laughed, etc. Not gonna lie, I cried that day..multiple times. Don't feel like
"okay, I'm shooting here and have to keep it together so I don't look like an emotional wreck"
, that's what waterproof mascara is for. :) When you document something this special for a sibling or friend, you should feel the freedom to laugh + cry..not like you sob the whole day, but don't feel that emotions aren't allowed because you're "the photographer." You are family, first. And obviously, be in pictures yourself!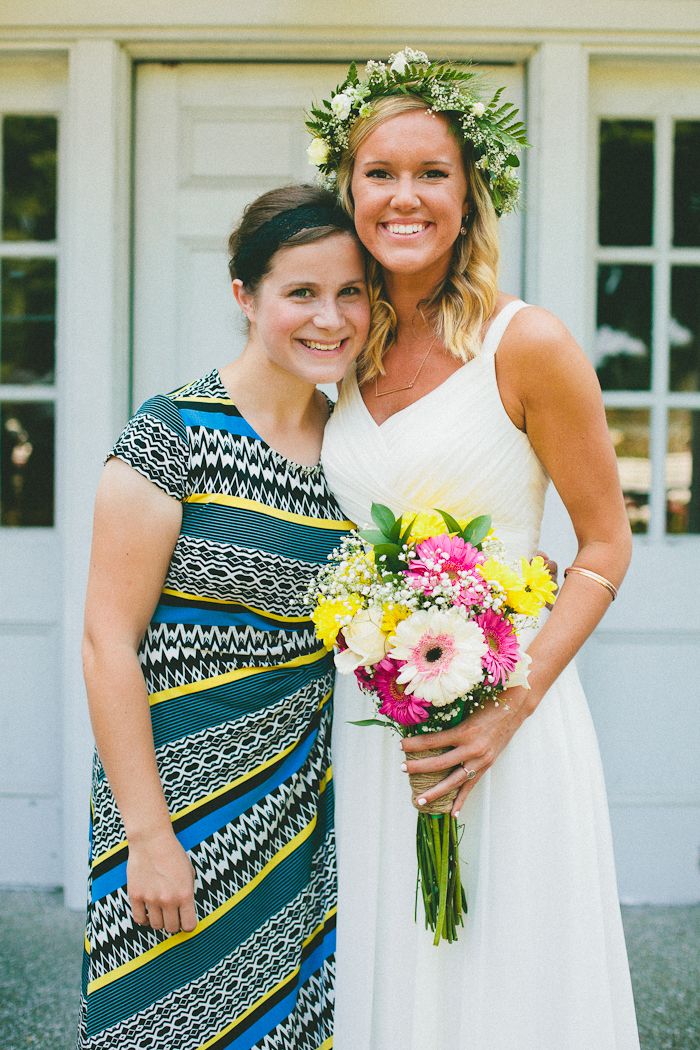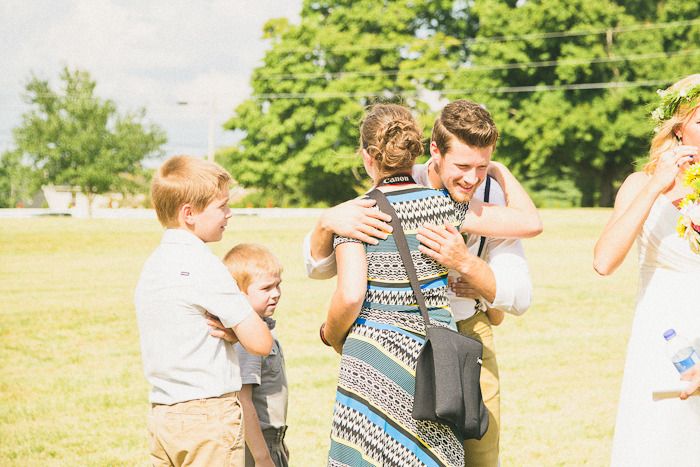 + Go with the flow.
This goes for any wedding, and as much as you plan things out they never follow the timeline exactly. So be flexible, work with whatever you've got! Be creative! This shot below of the bridesmaids was one I wasn't planning to get, but I walked past the door and saw a few of them gathered at the window. So I called the others and had them all stand together.
+ Wear a comfortable outfit you love. I happened to stumble upon a dress at TJ Maxx that was beyond perfect. I actually needed it hemmed because #shortgirlprobs, but aside from that it worked so well. The material was similar to a rash guard swim tee, which was super comfortable & cool since it was a warm day. Also I would highly recommend you shoot the wedding barefoot. ;) I only did this because the entire wedding party was barefoot and everything was outdoors, but seriously talk about glory road..
can I do this at every wedding?!
+ Prayer. Obviously you can't control how the day will go, and so you need to be praying about it in advance! I also had asked people to be praying for me, which I am SO grateful for and it made all the difference. I would remember something right when I needed to, or the timing for something would work out just right and I know God was orchestrating that. I'm not a perfect human being, and as much as I tried ultimately He was holding everything together!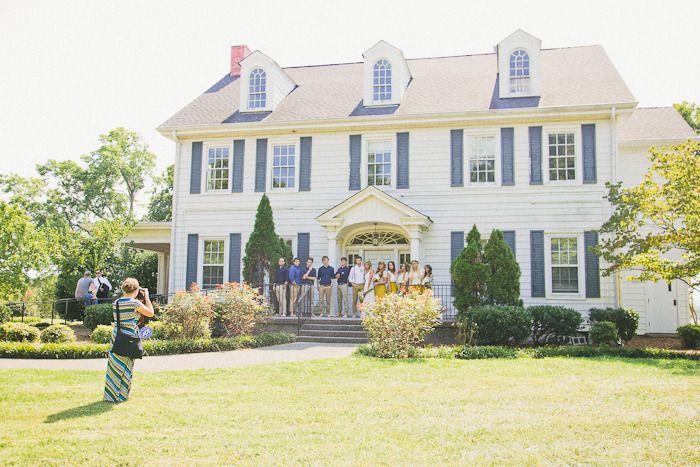 + You will be exhausted, the best kind of exhausted. I had shot weddings before so I knew that I would be tired but I honestly didn't expect to be that zapped by the evening. I know it was because of not only being on my feet all day, but it was an emotional thing for me to document. So be prepared that you might be more tired than normal afterwards!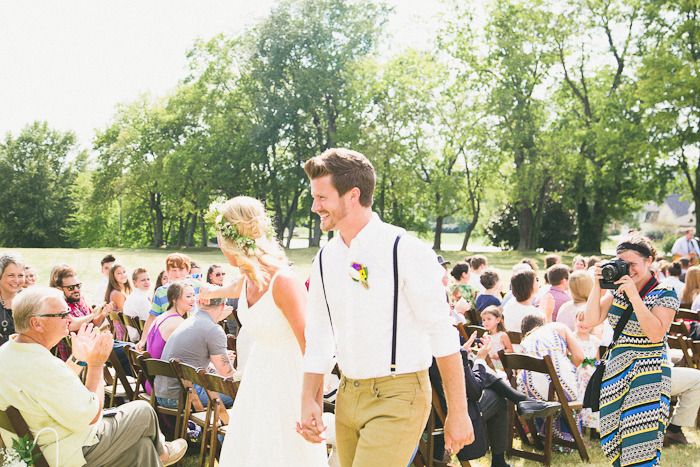 I hope this post was helpful to someone! I know many other people have photographed weddings for close friends or family, and would love to hear your thoughts as well, so please comment!! :)
have a great weekend!
love,
Hannah Elise