I am super excited to announce that I am hosting another photography internship!!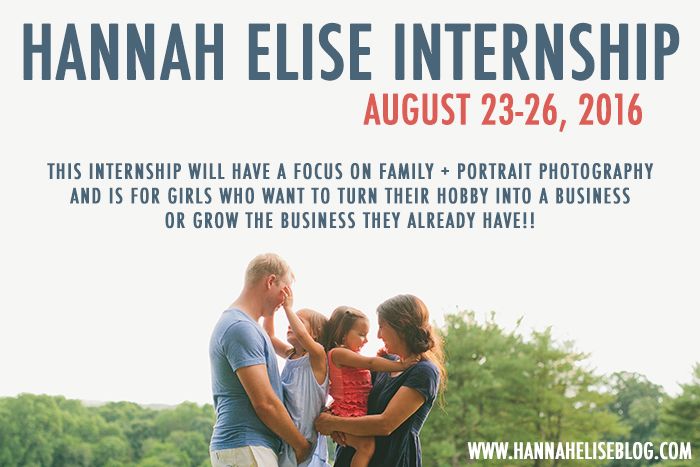 Last summer I hosted my first official one, and I have been debating on whether or not I would host one this year --
anyways, I've had time recently to figure it out + am stoked to share about this!!
And a heads up that is probably the only one I am doing for this year --
although I would love to do more down the road, Lord willing!! :)
A brief intro about me -- if you're reading about this for the first time + you're not familiar with who I am!! :)


I'm Hannah Elise -- a 23 year old Christian photographer, living in Eastern Iowa. I am a 2011 homeschool graduate + when I finished high school, I didn't go the typical college route and instead started my photography business and also have taught piano students over the past several years, been involved with a girls ministry, am part of a large family (I'm the second oldest of 8 kids) involved at my
church, done traveling, etc. I'm mostly self-taught, but have learned a lot from friends, google, interned with
Jessica Shae
in 2012, done mentorships with
Cheyenne Schultz
+
Ariel Renae
+ taken the
Magic of Light workshop
by
Summer Murdock
. I've been running my business for almost 5 years now and have done over 200 sessions within that time. While I definitely don't know everything about photography, I am grateful to have learned a lot over the past 4+ years of being in business -- and if sharing what I've learned (and
mistakes
I've made!!) can help someone else start their business on a better foot or give them the tools to equip them to succeed -- then that is totally worth it. Seeing girls I've mentored

grow in their work + being able to photograph people better makes my heart

swell

--

and what it's all about!! If I can help more girls go back home to their communities + photograph people even better -- that is SO rewarding

!!
Some of my favorite things include : thrifting (#goodwillforever), Chickfila, traveling,
hanging out with friends + I love color and unique outfits.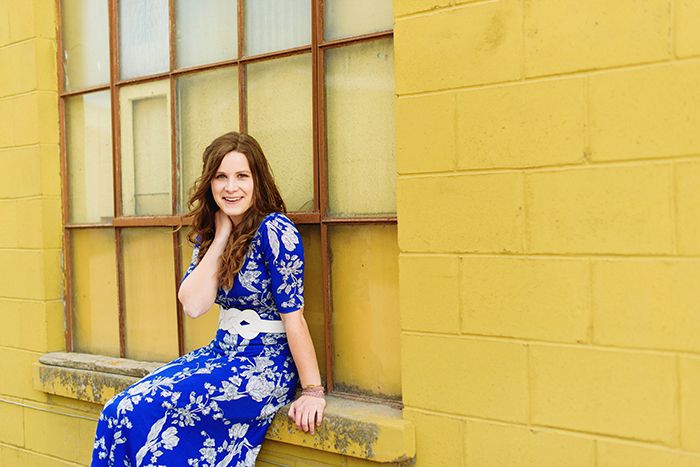 As mentioned before, when I first started my photography in the fall of 2011 I didn't really know what I was doing,
and the next year I really felt like I needed some type of "push" with my photography business
which was exactly what I needed at that time!!
Some of you may be in that same spot where you're just needing a push with your business,
or wanting to turn your photography hobby into a business
+ I would give you all the steps and practical knowledge to take it there!! :)
Two years ago I hosted my first

photography

WORKSHOP

+ after that realized I wanted to do something longer + more intensive to be able to go in-depth with things -- and last year hosted my first

INTERNSHIP

and had girls attend from Canada, Illinois + Wisconsin!!
You can read the RECAP from last year

HERE +

watch this video below to get a peek at what we did!!
Anyways, I'm super stoked to announce that I have another internship scheduled for this August + would love to have you come
!! :)

Who : Girls ages 16-25 who are wanting to turn their photography hobby into a business OR grow the business they already have!!
When : August 23-26, 2016 (Internship will begin with lunch on Tuesday + wrap up with lunch on Friday!!)
Where : Hosted in the Amana Colonies, IA,
which is one of THE prettiest places on earth + where I do a lot of my sessions!! Click HERE or HERE if you need convincing!! :) All of the photo sessions at the internship last year were shot in the Amana Colonies and it is just beautiful -- view them
HERE
,
HERE
,
HERE
+
HERE
!!
Investment : $700 which includes..
+ All your housing
(we will be staying at a BEAUTIFUL venue --
so stoked about this
!!)
+
delicious
meals!!
+ Teaching / sharing on various topics -- which is going to be EVEN MORE CONTENT than before!!
TOPICS INCLUDE :
camera basics + shooting in manual,
posing, lighting,
finding shoot locations / what backgrounds to use for sessions,
walk-through-of-a-client-process,
tips on photographing / working with clients + getting genuine expressions in pictures
, practical tips for going home + getting your business off the ground,
client communication,
editing,
basics of Lightroom, blogging + how I personally blog, branding,
running your business from home,
packaging / products / client experience, business tips, how I work with children / my hacks for posing, marketing (I'm kind of a marketing freak + nothing fires me up like that!!),
using social media, etc.
along with Q&A + discussion time -- so come with any questions you have!! :)
Content will be super practical
and down-to-earth for you to apply + make sense..I'm all about this.
Each girl will also get a bit of one-on-one time with me as well. :) You will leave with a sense of community + having people to bounce ideas off of + ask questions to in the future and having those connections + friendships will be totally invaluable for you down the road!! W
e will have tons of practical lesson time (like
with picture examples to explain things!) and
I would love to hang out with you while we learn together + this is going to be a blast!! :)
+ Observe
how I pose + photograph my clients
during family + portrait sessions we will be doing with awesome models -- and get to take some pictures yourself at these for your portfolio!!
You will get to see how I capture families + work with individuals + apply what you're learning at the internship with these!!
+ Some printed content which you will get to take home + have for reference + a sheet with all the links for gear/equipment/resources I use.
+ New headshots of yourself -- taken by me!! :)
+ And a few other surprises that you will receive when you get here!! :)
You will be responsible for travel to + from the internship and if you're flying in,
you would need to arrive at the Cedar Rapids, IA airport (CID) so just a heads up on that!!
Some reviews from my girls who attended last year..
Where do I even start???? The Hannah Elise Internship last summer changed the way I take pictures. I was able to connect my knowledge about the creative/artistic side of photography with the technical and business side. Hannah did a great job choosing models for us to photograph every night and I loved the time we would spend after the sessions critiquing each other's work....That is another thing... The group of girls that came were so much fun to get to know. It was amazing how close we became in just a week and I know I will be friends with those ladies forever! :)
The minute I found out that Hannah was hosting an internship I knew without a doubt I wanted to be there! The time spent with Hannah and the other girls was so much more than I ever hoped it would be!!!! The teaching times were SO beneficial and Hannah covered a lot of good information. My favourite thing about this internship was it was so practical and helpful. What we learned throughout the day we were able to practice at the photo-shoots during the evening! I came to the internship feeling stuck and not knowing how to launch my business but I left knowing exactly what I wanted to do and how to go about doing it! But it wasn't all work, we shopped, ate at adorable cafe's and coffee shops, laughed until we cried and made great friendships and amazing memories too:) I would definitely recommend the Hannah Elise Photography Internship to anyone who is interested in starting or growing their photography business!
Hannah Elise's internship is one of the best things that could've happened for my photography. It gave me confidence and knowledge in areas that would've taken me a long time if I tried to figure it out on my own.
Things that would've taken me much trial and error Hannah helped explain and show clearly.
Hannah was so sweet and helpful taking the time to help us all individually.
Being able to learn and grow with the other interns was awesome. A highlight has been all the friendships I have made.
I would go back and do it all again in a second.
I am very excited to apply everything I've learned.
Hannah is a wonderful and super thorough teacher! I learned so much!!! One of my favorite things was that, she brings every conversation back to Christ! Loved watching her work with her clients! And I have to mention, she has lots of marketing tips! Going to Hannah's internship was THE best thing for my business. She was such an encouragement! If you're thinking about going to one of her internships... Don't think twice! You will not regret it! You'll leave with so many helpful tips, knowledge, and tools for your business! And lots of lasting friendships!
p.s. see Amanda's internship recap
HERE
.
TO ATTEND, YOU WILL NEED:
dSLR camera, notebook + pen,
laptop, + an attitude excited about learning!!
Also bring some spending money in case we do some thrifting or shopping. :)
Overall this is just going to be SUPER fun + SUPER packed with information for you --
as I mentioned earlier -- EVEN MORE CONTENT than before!!
So, I would love to have you come --
and
am super excited to meet,
get to know,
learn together + hang out with you guys!! :)
TO APPLY, please fill out THIS APPLICATION and e-mail it to hannah@hannaheliseblog.com!!
Also, I will reply to your e-mail once you've applied just to let you know I've received it! :)
**edited to add -- please save your application as a .pdf document
and attach to your e-mail!! thanks so much!!
**EDITED -- application deadline extended until August 10th, 2016
+ you will be notified on whether or not you were accepted by August 12th!!
Please only e-mail if you are serious about coming and will be able to make the investment.
Depending on how many people apply I may not be able to accept everyone due to size limits,
so thanks in advance for understanding about that!!

Once you are accepted, a 50% deposit will be required to hold your spot
+ the rest of your tuition will be due 3 weeks before the internship.
**If you have any questions on anything before applying,
please don't hesitate to contact me + I would be happy to answer your questions!! :)
hannah@hannaheliseblog.com**
If you know someone who would be interested in attending--
could you please E-MAIL them the link to this blog post or TAG them on my
Facebook Page or Instagram about it?!!
Thanks so much in advance for helping spread the word about this!!
p.s. If these internship dates don't work for you, but you would definitely be interested in attending a future internship -- please
send me an e-mail + I will add you to my running list and notify you
if / when I do more down the road!! :)
--> hannah@hannaheliseblog.com